Top tips for to keep you safe and offer some food for thought when using online communication tools
Return to all insights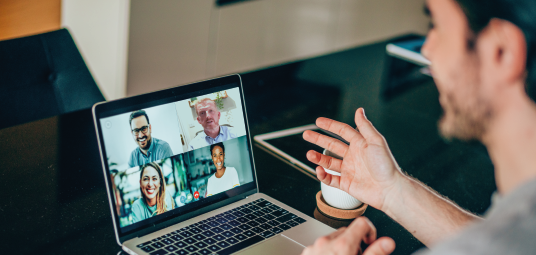 Industry updates
Author: Paul Fazakerley
Published: 28 Jan 2021
The way in which we're carrying out our daily lives has changed dramatically over the past year and, with the latest National Lockdown announced last week, we've all long since adapted to working from home, or simply embracing technology to maintain contact (and sanity) with those that matter most. Of course we could list the many ways that technology has become an integral part of our lives during lockdowns but it may take a while, with almost every part of our daily lives impacted, from exercise to online shopping, almost all of us have learnt how to use technology in new ways.
Given the rate of change, the team at InterBay Asset Finance have pulled together and provide below some top tips for family, friends, customers and brokers, to keep you safe and offer some food for thought when using online communication tools.
Nothing in life is free
As the Cambridge Analytica scandal showed in March 2018, our personal data is worth a lot to companies and the 'selling on' of our data is often the main source of revenue for those 'free' applications. With the rise in demand to download online communications applications, take the time to properly read the T&Cs before clicking 'accept all'.
Be sure who is asking
With reduced physical interactions, some businesses are now having to rely more upon digital approvals for transactions to be completed. It's likely that additional identity checks may also be required. That being said, remain mindful of unexpected contact from firms asking for security details, such as a pin number or password (in full), as this could be an attempted hack. If in doubt, or if something doesn't feel right, trust your gut and try to contact the person/company via another method.
Your name's not on the list
Whilst online communication applications are great at connecting us to our friends, family and colleagues, you should also make sure that you've checked the privacy/security settings to stop any unwanted guests from joining your conversation. For example the application Houseparty has the ability to 'lock a room' – blocking people from joining your chat. To do this click the padlock icon at the bottom of the screen once all the people you wanted to speak with are in the chat.
Am I still in the 'room'?
Most video-conferencing applications will have the ability to mute your microphone when not talking. Whilst seen as good online meeting etiquette, as well as helping to avoid the dreaded feedback or echo chamber effect, remember that a muted microphone, or a minimised conference call screen, does not mean the camera is off.
Group chat etiquette
With group chat rooms continuing to prove prevalent in replacing emails as a means of businesses facilitating internal communications, remember that despite their 'informal' appearance these are still official communication channels. There are going to be numerous participants with differing views on that 'hilarious' meme you were sent by a friend earlier and sending something in the group is seen by all. The best way to approach these is to not send/say anything that you wouldn't normally have sent via email or said around a meeting table. If that meme really is hilarious, send it to the person you actually wanted to see it via a direct message.
Go Phish
Phishing continues to be one of the most common ways cyber criminals try to extract data – by posing as a trustworthy entity requesting you provide them with your personal credentials. As mentioned above, with many service providers shutting their doors once again and moving to online communication, cyber criminals are seeing the opportunity to launch larger phishing campaigns. If you want to test your phishing skills, Jigsaw, a unit within Google whose purpose is to forecast and confront emerging threats within technology, have created an online test to see if you can identify the difference between a phishing and legitimate email. https://phishingquiz.withgoogle.com/
Whilst we find ourselves more physically distant in these unprecedented times, technology is allowing us to stay connected to family, friends, colleagues, customers and brokers more than ever before. However, just as many of us are taking greater care of our physical and mental health during these challenging times, it's important that we also take care of our online presence.

Stay safe and keep reaching out to others, you're not alone.
The InterBay Asset Finance Team